Fino Payments Bank Customer Care Center Number Mumbai : finobank.com
Company : Fino Payments Bank Limited
Head Quarters : Mumbai
Industry : Payments Bank
Service/Product : Recharge,Bill Payments,Money Transfer,etc
Website : https://www.finobank.com/
You can now ask your questions about this Customer Care Contact detail.
Please go to the bottom of this page.
Fino Payments Bank Customer Care Number
Fino Payments Bank, promoted by marquee entities, such as, BPCL, ICICI Group amongst others, comes from an institution that has served the country's banking needs for over 10 years.
Related : Paytm Payments Bank Customer Care Number & Contact Address : www.customercare.gen.in/9272.html
For Enquiry
To open a bank account :
or
to avail other services SMS 'FPB'
or
give a Missed call on : 78368 78368
For any other Enquiry :
Call us at : 1860 266 3466
Or
email us at : customercare AT finobank.com

Customer Contact Address
Registered Office Address :
Fino Payments Bank Limited
Shree Sawan Knowledge Park
Plot No. D-507, Second Floor
MIDC Turbhe, Navi Mumbai- 400 705
Telephone No: +91-022-7104 7000
OR
Mailing Address :
For general queries :  write us at customercare AT finobank.com
For media enquiries : write to media AT finobank.com
To report fraud :  write us to reportfraud AT finobank.com
Branch Address
Fino Payments Bank
Shop N. 15 & 25, Ground Floor,
Istiyak Complex,
S. No. 54, H. No. D,
Village Sativali, Vasai (East),
Thane-400 208
Fino Payments Bank
34/2, Khanpur Devli Road,
New Delhi-110062
Fino Payments Bank
Laxmi Park Society ,
Lodha Heritage,
Chandresh Lodha Marg,
Off Achole Road,Nalasopara East,
Thane-401209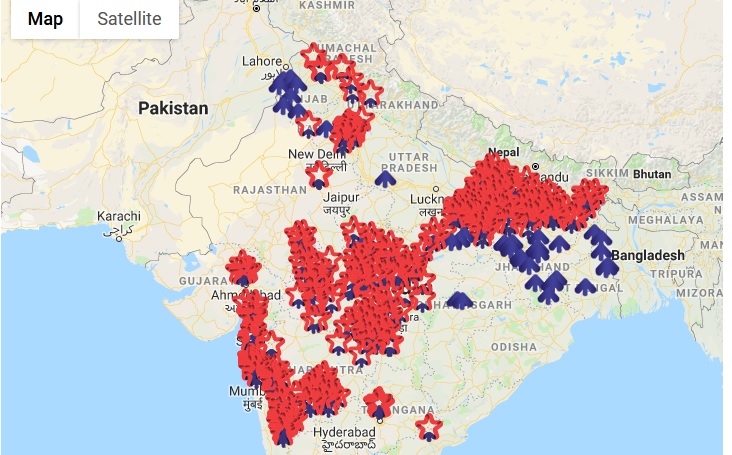 Fino Payments Bank
House No. 929,
Village And Post Maneshar,
Gurgaon-122050
Fino Payments Bank
H No 2-058/11,
Portion No 13,
Front Side,
Opp Narayan Hrudalaya Hospital,
Suraram, Rangareddy, Telangana-501401
Fino Payments Bank
H.No – 17, Mavai,
Vijay Nagar,
Ghaziabad, UP -201009
Fino Payments Bank
House No 5, Block C,
Near Bajrang Palace,
Molarband, Badarpur,
New Delhi-110044
Fino Payments Bank
F 12, Alishan Complex Nh Road
Danilimbda Ahmedabad-380043
Fino Payments Bank
34/2, Near Bank Of Baroda,
Nh 26, Makroniya Chowk,
Makroniya Sagar,
District-Sagar, Mp-470002
Fino Payments Bank
Ashirwad Nivas,
Near Icici Bank,
Dhoki Road, Kalamb 413507
Fino Payments Bank
Shop No. 18, Near Indian Gas Agency,
Damoh Road, Garhakota ,
District Sagar ( M. P.)- 470229
Fino Payments Bank
Mill Road, Khagaria,
Dist – Khagaria,
Bihar – 841204
Fino Payments Bank
At Post Arni Main Road,
Opp Nagani Medical,
Arni,Tal-Arni Dist- Yavatmal
Pin Code-445103
Fino Payments Bank
Ward# 6, Singla Square,
Opp Uco Bank, Robertsganj,
Sonbhadra, UP – 231216
Fino Payments Bank
Ground Floor,
Bharat Kiran Agarbatti,
Nikash Main Road Vidisha,
Dist-Vidisha, Mp-464001
Fino Payments Bank
First Floor,
Itwara Bazar Near Icici Bank Bahri Road,
Narsinghpur,
Distt. Narsinghpur M.P – 487001
Fino Payments Bank
Samaiya Market Parasha Chouraha,
Nehru Ward,
Khurai Sagar M.P – 470117
Fino Payments Bank
Ward# 5, Handiya Bus Stand,
Gt Road, Handiya,
Allahabad, UP – 211503
Fino Payments Bank
Main Road Dighwara Bus Stand,
Front Of Boi, Dighara,
Dist – Saran, Bihar – 841207
Fino Payments Bank
Shop No-201, Silver Point,
Plot No-42/2, Gidc Umbergaon,
Valsad-396130
Fino Payments Bank
48-303, Shop No 6,
Opp. Hdfc Bank,
Ganesh Nagar,
Chintal- 500054
Fino Payments Bank
Survey No: 70, Kuthubullapur Mandal,
Beside Sbh Bank, Main Road Dulapally,
Rangareddi,Telangana – 500014
Fino Payments Bank
Plot No.1, H.No.29-500/3/1,
Ground Floor,
Sbh Bank Building,
3 Temple Bus Stop, Neredmet,
Hyderabad – 560047
Fino Payments Bank
1-23-113,Plot No.2,
Shree Nilayam,
Bhoodevi Nagar,
Alwal, Secundarabad – 500015
Fino Payments Bank
Srt?311,?7-2-532,
I?H?Colony,?Sanathnagar,
Hyderabad?-?500018
Fino Payments Bank
5-1-88, Kukatpally,
Hyderabad,Ap – 500072
Fino Payments Bank
2-113, Madhavareddy Complex,
Near Bus Stop, Ida Bollaram,
Medak, Pin – 502325
Fino Payments Bank
13-120/1, Main Road,
Medchal, Rangareddi
Dist., Telangana – 501401
Fino Payments Bank
H.No.8-3-228/A/1/B,
Plot No.1, Check Post,
Yusufgada, Hyderabad – 500045
Fino Payments Bank
Shop No. 3 And 4,
Gr Floor,Shiv Complex,
Opp. Ford India. Gate 3,
At-Bol, Sanand-382170
Fino Payments Bank
G No-8,India Estate,
Sarkhej,
Tal/Dist-Ahmedabad,
Gujarat-382210
Fino Payments Bank
Shop No 11, Kailash Avenue,
At- Changodar,
Taluko- Sanand, Ahmedabad
Fino Payments Bank
A-1, Durga Novelty,
At-Sanjay Nagar,
Salve Land,
Near Laljipada Police Chowki,
Kandivali West, Mumbai-400067
Fino Payments Bank
Shop N. Room No. 1,
Chawl No. 1,
Shakti Colony,
Municipal H. No. 374,
Situated At S. No. 52/1,
Mauje Khadegolavali, Kalyan (E) ? 421306.
Fino Payments Bank
Unit 55, House No. 3009,
Sanjivini Nagar,
Ishwar Nagar,Digha,
Navi Mumbai-400708
Fino Payments Bank
D-19, Snehal Garden,
Near Jari Mari Mandir Road,
Post Mira, Kashigaon,
Thane- 402204
Fino Payments Bank
Sakinabai Chawl S.V. Road,
Above Goodwillmoter Store Ambawadi,
Dahisar(East) – 400068
Fino Payments Bank
Sant Kuteer Nagar Nigam Road,
Sanganeer Bazaar, Jaipur ? 302029.
Fino Payments Bank
H.No. 136, Salarpur,
Khadar-1, Noida – 201301
Fino Payments Bank
Shop Premises No. 2,
Navdeep Chs,
Opp. Malhar Arcade,
Near Vimal Dairy, Bhayandar
Tal. Bhaynadar & Dist. Thane – 401105
Fino Payments Bank
Shop No.03, Ground Floor,
Dashrath Apartment,
Opp. Datta Mandir, Kalyan Phata,
Diaghar Road, Post. Padle,
Tq. & Dist. Thane-421204
Customer Care Centre
Step 1 :
Queries / Feedback / Complaints / Appreciation
** Branch
** Call Us
** Register Complaints
** Mail us
Step 2 :
Nodal Officer :
Incase the complaint is not responded or the customer is not satisfied, the customer can contact nodalofficer AT finobank.com
Step 3 :
Principal Nodal Officer :
If the customer is still not satisfied with the responses, then he can contact the Principal Nodal Officer – Mail us
Note :
** After having followed Steps 1, 2 and 3 if your issue still remains unresolved or in case you have not received response within 30 days of lodging a complaint, you may approach the Banking Ombudsman appointed by the Reserve Bank of India.