=>>

=>>

Adani Electricity 24X7 Toll Free...
Adani Electricity 24X7 Toll Free Helpline Number : adanielectricity.com
Company : Adani Electricity
Office Location : Mumbai
Industry : Electricity
Service/Product : Electricity Supply Service
Website : https://www.adanielectricity.com/Contact
Want to comment on this post?

Go to bottom of this page.
Adani Electricity 24X7 Toll Free Helpline Number
Toll Free : 1800 200 3030 or 19122
Related / Similar Service : Fossil Group Toll Free Number
Missed Call :
Number : 1800532 9998
Please call from your registered mobile number to register your complaint or know the status of power restoration
SMS :
Send Power<9 digit account no.> to 7065313030
e.g. If your account no. is XXXXXXXXX, then send Power XXXXXXXXX to 7065313030
WhatsApp :
Send Power<9 digit saccount no.> to 7065313030
e.g. if your account no. Is XXXXXXXXXX then send #nopower XXXXXXXXX to 9022813030
Adani Electricity Contact Address
You can also contact our Corporate Office located at :
Adani Electricity,
Devidas Lane, Off SVP Road,
Near Devidas Lane, Telephone Exchange,
Borivali (W), Mumbai – 400103
** You are always welcome to call up our Call centre at 1800-200-3030 OR 19122 (Toll Free)
** You can send us e-mail at helpdesk.mumbaielectricity AT adani.com
Branch Address
North Division :
Jn. of Shankar Lane
S V Road Kandivali (West)
Mumbai – 400 067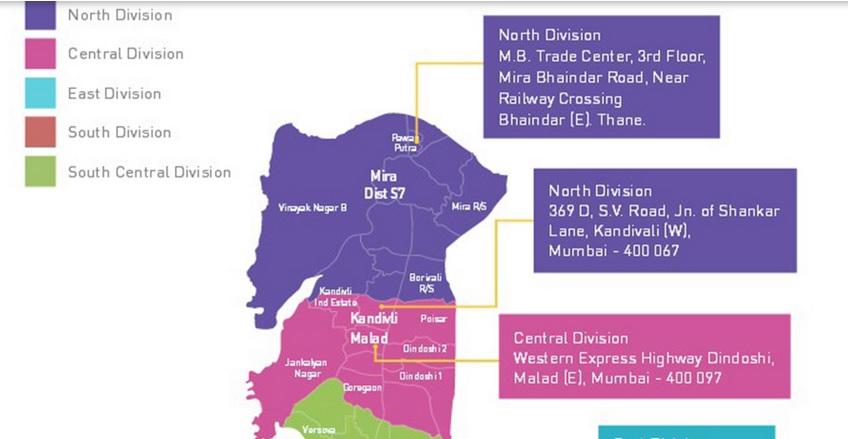 Thane :
2nd Floor,
M.B. Trade Centre,
Mira Bhainder Road,
(Near Railway Fatak)
Bhainder (E)
Thane 401105
South Division :
RNA Corporate
Park Old Kalamandir
Near Collector's Office
Bandra (East) Mumbai – 400 051
East Division :
Near Sahakar Cinema
Tilak Nagar
Road No.3 Chembur
Mumbai – 400089
Mumbai :
Sakinaka Jn.,
Andheri-Kurla road,
Near Park Davis,
Andheri (E),
Mumbai- 400 072
Central Division :
Western Express
Highway Dindoshi
Goregaon (East)
Mumbai – 400 097
South Central Division :
Mumbai :
Plot No. E-4 (i) & (ii)
MIDC Area Marol Andheri (East )
Mumbai – 400 093
Mumbai :
Usha Kiran bldg,
Nr. Nadco Market,
S.V. Road,
Andheri West
Mumbai 400058
FAQ
What are the factors on which security deposit depend ?
Security deposit depends on last 12 months average bill amount.
When do tariff rates change?
Usually tariffs are revised every year and is communicated well in time.
How does your billing system work?
After the meter is connected, a Customer Account Number is allotted based on the location and a nearby Customer Care center. This determines your Cycle Number and Book Number.
Based on Cycle Number, readings are taken by our Meter Reader every month, The readings are entered into out billing system that calculates the bill amount. Bills are then printed and dispatched to your billing address.
What is a supplementary bill?
It is an additional bill to the normal bill, which is issued only when a meter is changed. If the new meter shows average consumption more than 20% compared to old meter, a supplementary bill is raised based on the average consumption.
How do I calculate my monthly energy consumption?
We have provided an energy calculator (called as bill budgeter) on our website Adani Electricity within the "My Account" feature. You can enter your average daily usage of the listed appliances and the calculator will give you the monthly consumption in units.
About Adani Electricity
The Adani Group is a globally integrated infrastructure player with business spanning across key industry verticals of resources, logistics, energy and agro. The Adani Group's growth and vision has always been in sync with the idea of Nation Building.
"Thinking Big. Doing Better" is a natural philosophy that is embodied in everyone at Adani Group and we sincerely believe that we are doing our part in nation building and touching the lives of millions of people positively.
Adani Electricity Mumbai Limited (AEML) is a 100% subsidiary of Adani Transmission Ltd formed post acquisition of Reliance Infrastructure Limited's integrated Generation, Transmission and Distribution utilities powering Mumbai city.