ayush.gov.in Call Centre Contact Number : Ministry of Ayush
Company : Ministry of Ayush
Service Name : Call Centre Contact Number
Headquarters : New Delhi
Industry : Ayurveda, Yoga and Naturopathy, Unani, Siddha and Homoeopathy
Service/Product : Drugs
Website : https://main.ayush.gov.in/
You can now ask your questions about this Customer Care Contact detail.
Please go to the bottom of this page.
Ministry of Ayush
The Ministry of Ayurveda, Yoga & Naturopathy, Unani, Siddha and Homoeopathy is purposed with developing education, research and propagation of indigenous alternative medicine systems in India.

The Ministry is headed by a Minister of State, which is currently held by Shripad Yesso Naik.
Ayush Contact
Ministry of Ayush
Ayush Bhawan, B Block,
GPO Complex, INA, New Delhi – 110023

Contact Number :  1800-11-22-02 (9:00 AM to 5:30 PM) (IST)
Email: webmanager-ayush[at]gov[dot]in
Citizens can make call on following Telephone numbers for the matter related to CVC
Call Centre – 1800-11-0180,1964
Complaint Cell – 011-24600216,
About Ayush
The Ministry of AYUSH was formed on 9th November 2014 to ensure the optimal development and propagation of AYUSH systems of health care.
Earlier it was known as the Department of Indian System of Medicine and Homeopathy (ISM&H) which was created in March 1995 and renamed as Department of Ayurveda, Yoga and Naturopathy, Unani, Siddha and Homoeopathy (AYUSH) in November 2003, with focused attention for development of Education and Research in Ayurveda, Yoga and Naturopathy, Unani, Siddha and Homoeopathy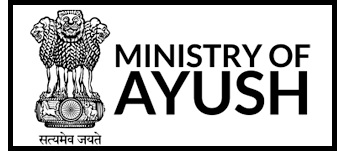 The ministry has faced significant criticism for funding systems that lack biological plausibility and is either untested or conclusively proven as ineffective. Quality of research has been poor, and drugs have been launched without any rigorous pharmacological studies and meaningful clinical trial.
Ethical concerns have been raised about various schemes that increasingly compel rural populace into accepting AYUSH based healthcare; average expenditure for drugs has been roughly equivalent to that in evidence-based medicine. The ministry has proliferated after Bharatiya Janata Party government was elected at the centre, in 2014.
The ministry runs multiple healthcare programs; primarily aimed at the rural population. AYUSH is supposed to form an integral backbone of the Ayushman Bharat Yojana and the ministry had long worked for integrating the different systems of AYUSH with modern medicine, in what has been described as 'a type of "cross-pathy"'.
More than 50,000 children have been enrolled in 'Homeopathy for Healthy Child'. It observes different days to raise general awareness about AYUSH and promote each of the systems.
The ministry had collaborated with the Council for Scientific and Industrial Research (CSIR) to set up the Traditional Knowledge Digital Library (TKDL) in 2001, on codified traditional knowledge on Indian systems of medicines such as Ayurveda, Unani, Siddha and Yoga, as a means of preventing grant of "bed" patents on traditional knowledge and thus counter biopiracy.