Lot Mobiles Hyderabad Customer Support Contact Number : lotmobiles.com
Company : Lot Mobiles Pvt. Ltd.
Head Quarters : Hyderabad
Industry : Telecom & retail industry
Service / Product : Mobiles,Tablets & Accessories
Website : www.lotmobiles.com
Want to comment on this post?

Go to bottom of this page.
Lot Mobiles Customer Support Number
** It will be our pleasure to receive any query from you because we value our customers. Kindly contact us at
Email : support AT lotmobiles.com
Phone : +91 – 9985234567
Related : LAVA Mobiles Helpline Number & Email Address : www.customercare.gen.in/9199.html
Customer Support Days and Timings: Between 08:00 AM to 08:00 PM during weekdays.
Contact Address
Corporate Office:
Lot Mobiles Pvt. Ltd.
1-98/8/5/A, Plot No.5
Image Gardens lane, Madhapur
Hyderabad – 500081
Anantapur :
Shop No:10/440-1, SubhashRoad, Ananthapur, PinCode:505001.
Email : anantapur AT lotmobiles.com
Guntakal :
Shop No : 16/108A, Beside syndicate Bank, Thangutur Complex, Main Road, Guntakal, PinCode:515801.
Email : guntakal AT lotmobiles.com
Tadipathri :
Shop No:5/31-2, C.B.Road, Tadipathri, PinCode:515411.
Email : tadipatri AT lotmobiles.com
Adilabad :
Shop No:4-3-8/4/6/1,Cinema Road,Adilabad-504001
Email : adilabad AT lotmobiles.com
Chittor :
Madanapalli Shop No:13-281, Avenu road, new banglore bustand circle, beside Taj Hotel, madanapalli, PinCode:517325.
Email : madanapalli AT lotmobiles.com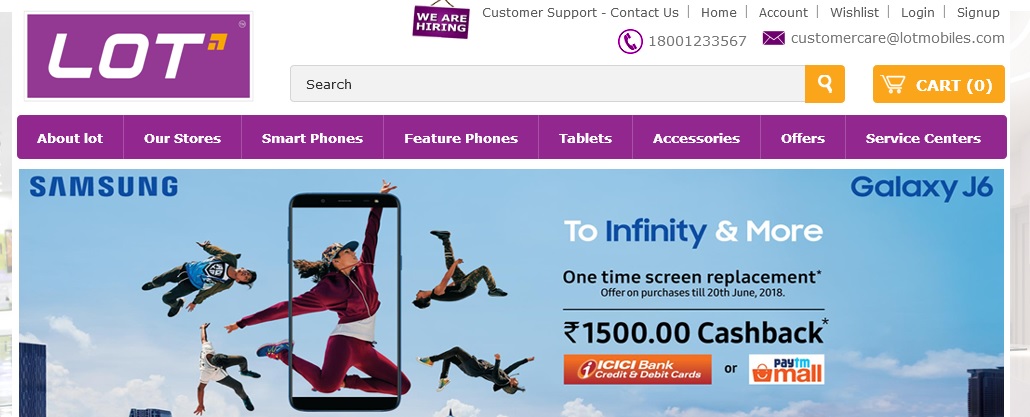 East Godavari :
Amalapuram Shop.No:7-2-32, MainRoad, Near Mamidivaram Gate, Gold Market, Amalapuram, PinCode:533201.
Email : amalapuram AT lotmobiles.com
Hyderabad :
Shop No 8-3-944/12/6 & 7, Opp R.S.Brothers, Ahmed Complex, Ameerpet, Hyderabad, PinCode:500038.
Email : ameerpet1 AT lotmobiles.com
Banjarahills :
D.No: 8-2-644/1/13, Opp Pizza Hut, Road No.12, Banjara Hills, Hyderabad, PinCode:500034.
Email : banjarahills AT lotmobiles.com
Prakasham :
Markapur Shop No : 8/364, College Road, Markapur, Dist: Prakasham, PinCode:523316.
Email : markapur AT lotmobiles.com
Vishakapatnam :
Diamond Park Shop No.47-10-10,Ground Floor, Rednam Regency, Dwarakanagar, Landmark:Diagonal, Opp:Sai Ram Food Court.Diamond Park, Vishakapatnam.
Email : diamondpark AT lotmobiles.com
Warangal :
Shop No : 9-10-15, JPN Road, warangal.
Email : warangal AT lotmobiles.com
Shipping Policy
Shipping charges :
** Free Home Delivery- What a wonderful thing! It makes life so easy. You call, you order and you get what you want in a certain time.
** The world suddenly becomes an awesome place.
** Lotmobiles.com understands all your needs and emotions well.
** Hence, we offer you free shipping, wherever you live in India.
** However, additional charges will be applicable under following circumstances:
Delivery time frame :
** To all our customer's inner soul's delight, we offer a 5-7 working day shipping guarantee!
Disclaimer:
** 4 days exclude special days (National Holidays, Natural Calamities and other emergency situations);
** Shipping guarantee means 1st attempt of delivery will be made within 7days;
** Delivery timeframe may vary during promotional campaigns, for which Guest Relations will always keep you proactively informed.
Shipping mode :
** Wherever you live in India, Lotmobiles.com has a best of logistics partner across the states for shipping the products to your doorstep.
** We take ultimate responsibility of your shipment. Never letting our loyal customers down,
** we always encourage them to follow up directly with us for any delivery related queries.
For Shipping related Quries :
Please Contact : shipping At lotmobils.com