=>>

=>>

Subway Gurgaon Contact Number
Subway Gurgaon Contact Number
Company : Subway Systems India Pvt Ltd
Corporate Office : Gurgaon
Industry : Foods
Service/Product : Hotel
Website : https://www.subway.com/en-IN/ContactUs/ContactUsForm
Want to comment on this post?

Go to bottom of this page.
Subway Contact Number
Call : +91 124 4188700
Subway Contact Address
Subway Systems India Pvt Ltd
Unit No. 20-24, 3rd Floor,MGF Metropolis,
MG Road, Sector-28,Gurgaon-122002 Haryana
Related / Similar Customer Care : Hotel Empire Bangalore Contact Number

Subway Store Locations
Cement Road :
Dharampeth Extn.
Indu Yash Complex
Nagpur, MA 440010, IND
Tel : 0712 661 6977
Labhandi Ground Floor Kiosk :
Magneto Mall
Raipur, CG 492001, IND
Russel Chowk :
Beside Jabalpur Hospital
361 & 361/1 Napier Town
Jabalpur, MP 482001, IND
Tel : 07400 666 622
Shop No. GF-17, Ground Floor :
Hoshangabad Road
Aashima Mall
Bhopal, MP 462026, IND
Tel : 0755 690 0005
45 46 47 Petbasheerabad Vill :
Quthbullapur mandal, Medchal M
Jayabheri Filling Stat. S No44
Hyderabad, TG 500855, IND
Tel : 040 6456 1616
39-182 Vayupuri :
Sainikpuri
Secunderabad, TG 500094, IND
Tel : 040 6574 8888
Plot # 283/A,Road #12 :
MLA Colony, Banjara Hills
Hyderabad, TG 500034, IND
Tel : 040 4017 9494
G-3 Aaltos A&M Trade Center :
Himayatnagar
Hyderabad, TG 500029, IND
Tel : 040 4007 0330
15/1, GF, :
Gachibowli, Hyderabad,
Kapil Towers,-IT Park, Fin Dis
Tel : Hyderabad, TG 500032, IND
Plot 3 Road 2, Financial Dist. :
Nanakramguda, Gachibowli
Continental Hospital, Food Ct.
Hyderabad, TG 500035, IND
Tel : 040 6551 0033
Khajaguda Village :
Flat 101, 1st Floor, Oak Plaza
Hyderabad, TG 500008, IND
Tel : 079972 22251
Opp. Windsor Luxury Homes :
Mokila Subishi's Town Centre
Shankarpally Mandal, TG 501203, IND
Tel : 040 2980 5588
16-11-19/11, Saleem Ngr Colony :
Opp. TV Tower, Malakpet
Hyderabad, TG 500036, IND
Tel : 040 6956 3333
Shop #3, H.No.11-9-140, Plot 3 :
Laxmi Nagar Colony, Road No 3
Ace Pearl
Hyderabad, TG 500035, IND
Tel : 040 4850 5222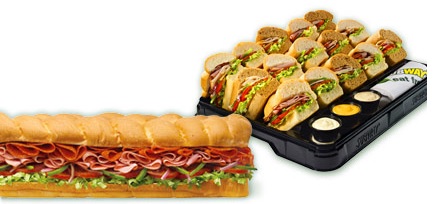 FAQ On Subway
Frequently Asked Questions On Subway (FAQ) :
1. What is the Subway® brand's most popular sandwich?
** Ranking at the top of the favorites list are the Italian B.M.T®, tuna, and the Subway Club®.
** Fresh Toasted favorites include meatball marinara, the chicken & bacon ranch, and our Subway Melt® subs.
** Our sandwiches are so popular, the Subway® brand serves nearly 2,800 sandwiches and salads every minute!
** In fact, all of the sandwiches made by Subway® restaurants in a year, placed end to end, would wrap around the Earth over six times.
** That's a lot of sandwiches!
2. Can I customize my sandwich?
** Yes! Your friendly sandwich artist will make your freshly made sandwich however you want it.
** In fact, there are over 2 million sandwich varieties available from our menu choices, so you can have your Subway® sandwich with any combination of ingredients we offer.
** Consider those varieties as 2 million delicious sandwiches—all with your name on them.
3. How does the Subway® brand ensure food safety in its restaurants?
** All Subway® restaurants follow our "Gold Standard" policies regarding prepared food and produce manufacturing and inspection specifications.
**All franchises are provided with information on proper food handling procedures in order to properly train their crew members.
** Food is prepared fresh daily and temperatures are monitored regularly. Gloves are required to be worn during all food handling procedures.
4. Can the Subway® menu accommodate my special dietary needs?
** Although the Subway® brand maintains the same menu worldwide, menus do change in order to accommodate the different dietary needs of consumers and adapts where appropriate.
** For instance, in India, where the population is largely Hindu and does not eat beef, or Muslim and does not eat pork, these ingredients are substituted with chicken, lamb, or turkey.
** And because Subway sandwiches are fresh and made to order, customers can add or eliminate ingredients based on their own dietary needs.