Indian Bank Chennai Customer Care Toll Free Number : indian-bank.com
Company : Indian Bank
Head Quarters Location : Chennai
Industry : Bank
Service / Product : Banking Service
Website : www.indian-bank.com
Want to comment on this post?

Go to bottom of this page.
Indian Bank Customer Care
INDphoneBANKing (Call Flow) :
Call Toll-free INDPhoneBANKing number, 1800-425-3425 anytime.
Related : State Bank Rewardz Mumbai Toll Free Number : www.customercare.gen.in/9692.html
You will be greeted by IVR (Interactive Voice Response) :
Welcome to Indian Bank Tele Banking Services, Press * button to continue"
"Please enter your 9-digit CIF or customer Identification number" will wait for 9 digits to be entered, if less digits are entered or incorrect number is entered it will say "Invalid CIF numbers"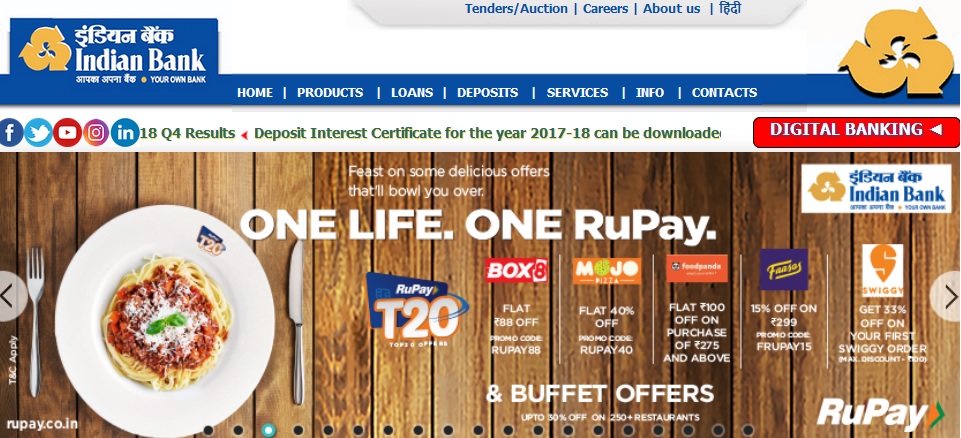 If data is entered correctly, respond to the request of Interactive Voice Response system
The customer can enter the required numbers straightaway without waiting for completion of recorded information.
System will accept incorrect entry only twice, after that phone will get disconnected).
By calling Toll-free number : 1800-425-3425
Ind Mobile Banking Number : SMS to INDMOBILE to 94443 94443
For Hot Listing of Lost cards:
In case of loss of card, you can HOT LIST the credit card by any one of the following methods
1. Blocking through SMS: Please type the message'BLOCKCC' and send the SMS to 56767 from your registered mobile to immediately block the card.
2. You will get a confirmation message after blocking the card.
3. Through 24 hours toll free Customer Care number : 1800 425 00000
4. Send Fax to 044 – 2526 1999 ( during working hours )
5. Send email to our Email ID (during working days) : creditcard AT indianbank.co.in
Hot List ATM/Debit Card
** Contact TMD/ATM Section at the following telephone numbers.
** Ph. 044-25260335,044-25251185,044-25222841,044-25210338
** or National Toll Free No.1800 425 00 000
** or email- atmhotlist AT indianbank.co.in
** email- hoatmmonitoring AT indianbank.co.in
** The Service is available 24 X 7 and 365 Days.
** Call for your Enquiries Anytime, you can have following information about your account like
** Balance Enquiry
** Account Details
** Issued Cheque Status Enquiry
** Deposited Cheque status Enquiry
** Change of TPIN
** Anytime, Anywhere
Email Address
** Head Office – indmail AT indianbank.co.in
** Accounts Department – hoaccounts AT indianbank.co.in
** Bank Assurance Centre – basc AT indianbank.co.in
** Banking Operations Department – hobod AT indianbank.co.in
** Board Department – ibboard AT indianbank.co.in , boardsect AT indian-bank.com
** Branch Expansion Cell – hobec AT indianbank.co.in
** Cell For Govt Transactions – hocgt AT indianbank.co.in
** Cmd Secretariat – cmdsec AT indian-bank.com , customerfirst.cmd AT indianbank.co.in