Jyothi Gas Bangalore Customer Care Address & Number : jyothigas.com
Company : Jyothi Gas Pvt. Ltd.
Head Quarters : Bangalore
Industry : Gas
Service / Product : Gas Service
Website : www.jyothigas.com
Want to comment on this post?

Go to bottom of this page.
Jyothi Gas Customer Care Number
Phone:91-80-43404040/ 9686861286/ 9686861281
Fax: 91- 80 – 43404044
Related : Sabarmati Gas Gandhinagar Customer Care Contact Number & Address : www.customercare.gen.in/1882.html
E-mail: info AT jyothigas.com
Customer Contact Address
Jyothi Gas Pvt. Ltd.
#1, 2nd Floor, RNG Palazzo,
South End Street, Kumara Park East,
Bangalore 560001,
Bangalore :
Bottling Facilities At
M/s Jyothi Gas Pvt. Ltd.
73/1, Kachanahalli Budihal Post
Nelamangala Taluk Bangalore-562123
Phone: 91-080-27730400
E-mail: info AT jyothigas.com
Shimoga :
M/s Malnad Jyothi Gas Pvt Ltd.
#18,2nd Cross KIADB Industrial Area
Machenahalli, Nidige Post Shimoga-577222
Phone: 91-0818-2246114
E-mail: info AT jyothigas.com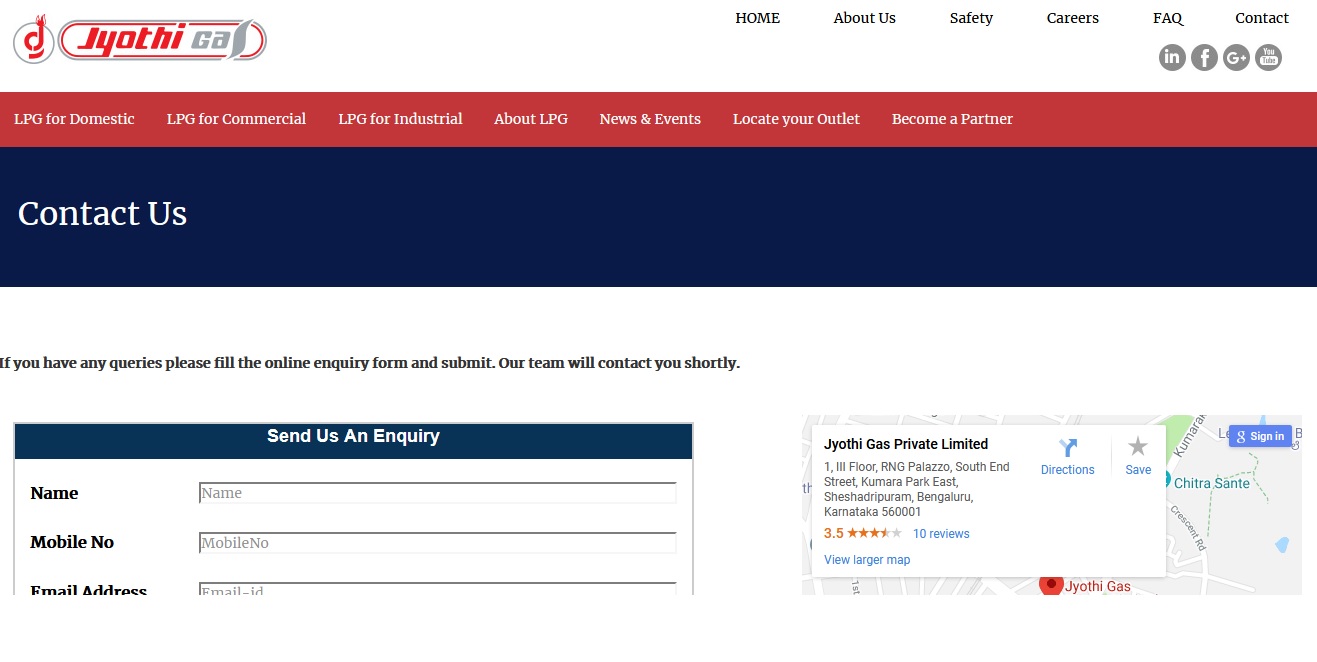 Erode :
M/s Sri Balaji Gas Bottling Pvt. Ltd.
Kavilipalam Road
Kadamachettipalayam, Near Nambiyur
District Erode
Tamilnadu
E-mail: info AT jyothigas.com
About Us
Jyothi Gas Private Limited, founded in the post liberalization era, in 1994, has set itself the goal of providing excellent service in the private sector LPG bottling and distribution field. Over the past 19 years, Jyothi Gas has moved in this direction steadily. A reflection of this effort is the customer base of over 2 lakhs in all parts of Karnataka.