UPL Mumbai Contact Address & Phone Number : uplonline.com
Company : UPL Limited
Head Quarters :Mumbai
Industry : Chemical
Service / Product : Phosphorus, Red Phosphorus,Insecticides, Fungicides, Herbicides, Fumigants, PGR and Rodenticides
Website : www.uplonline.com
Want to comment on this post?

Go to bottom of this page.
UPL Contact Email Address
Corporate Affairs :
For issues related to corporate affairs, write to us at upl AT uniphos.com
Related / Similar Service:
Quantum Drugs & Chemicals Madurai Customer Phone Number
Product Enquiries :
To know more about our products, please get in touch on upl AT uniphos.com
Human Resources :
To know more about career opportunities, kindly mail us on careers AT uniphos.com
Investor Relations :
Shareholders can write to us at upl.investors AT uniphos.com
Contact Address
Chandigarg :
United Phosphorus Limited
2nd Floor, SCF 91
Phase 7
Mohali (Punjab)
Tel : 0172- 5098396/5098397
Telefax : 0172- 5098396/5098397
E-mails:bathindazonal AT uniphos.com
Bathinda :
C/o.Bhatinda Agro Services
United Phosphorus Limited
D-21, New Focal Point
Dabwali Road
Opp Moonak Chemicals
Bathinda-151001
Punjab
Tel : 0164 – 2280778
Telefax : 0164 – 2280136
E-mails:bathinda AT uniphos.com
Jalandhar :
United Phosphorus Limited
683C Urban Estate Phase-II
Jalandhar
E.mail:bahuguna_cabm AT rediffmail.com
Ludhiana :
14 BRS Nagar
Ludhiana
C/o.Jagat Singh
D-29(Opp D-9)
Baba Nand Singh Nagar
Behind Hyundai (Godavari) Showroom
Ferozepur Road, Ludhiana
Tel :0161-2743 146/0161- 2742088
uplludhiana AT satyam.net.in
New Delhi :
United Phosphorus Limited
26-28 Indra Palace
H Block
Connaught Circus
New Delhi – 110 001
Tel : 011 – 2371 3650/51/335 0042
Fax : 011 – 2332 8886
E-Mails:delhi AT uniphos.com
Jaipur :
United Phosphorus Limited
C/o Sunakshi Services
Star Mansion, 4th floor
Shyam Marg, Shastri Nagar
Jaipur – 302 001
Tel: 0141 360132
Fax: 0141 374078
E-mail:nain_wal AT rediffmail.com
Lucknow :
United Phosphorus Limited
C-18, J-Road
Mahanagar Extension
Lucknow-226 006
Tel : 0522- 2329412 – 9413 – 9414
E-mails:lucknowzonal AT uniphos.com
Cuttack :
United Phosphorus Limited
C/o Apco Marketing
Samanta Sahi Canal Road
Cuttack – 753 001
Orissa
Tel:0671- 2421810/2421815
Fax :0671- 2432254
E-mail:cuttack AT uniphos.com
Coimbatore :
United Phosphorus Limited
3/158, Sarada Mill Road
Sundarapuram
Coimbatore-641 024
Tel:0422- 2671763
Fax: 0422- 2671763
E-mail:coimbatore AT uniphos.com
Cochin :
United Phosphorus Limited
Building No. 31/491 F
Vellakkal, Puthupally
Changampuzha Nagar Post,
Unichira
Cochin – 682 033
Tel:0484- 2575346/2576716
Fax:0484- 2575346
E-mail:Cochin AT uniphos.com
Guwahati :
United Phosphorus Limited
C/o. Novin's Chemicals
Opp: Lane of Good Friend Hospital
Vivekananda Path, Ulubari
Guwahati – 781 007
Assam
Tel: 0361- 2603225/2603228
E-mail:guwahati AT uniphos.com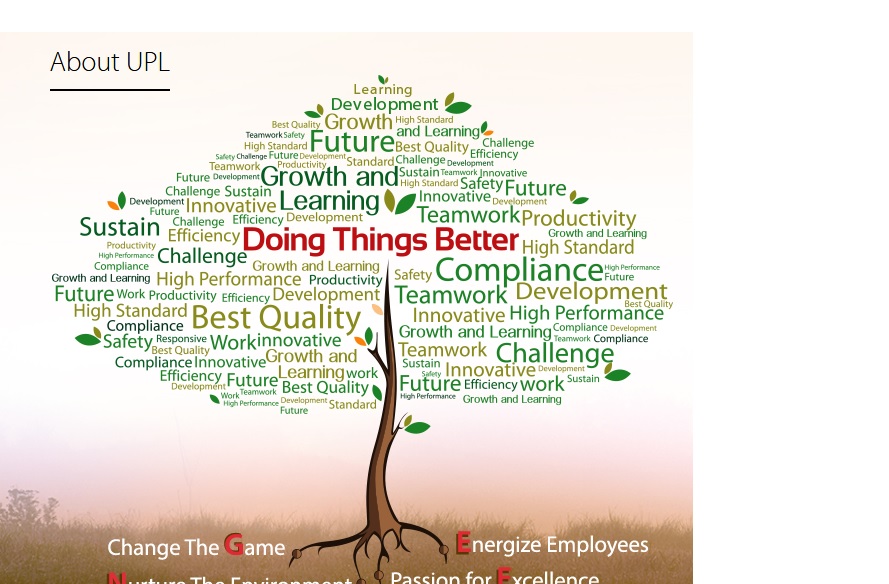 About Us
It`s almost 40 years ago, when we at United Phosphorus had started as a small scale unit to manufacture Red Phosphorus. Through backward and forward integrations respectively, today we are a leading global producer of crop protection products, intermediates, speciality chemicals and other industrial chemicals.
Being the largest manufacture of agrochemicals in India, we offer a wide range of products that includes Insecticides, Fungicides, Herbicides, Fumigants, PGR and Rodenticides.At UPL, we have a team of experts in different parts of the world which conducts a proper study of the market and the other competitors, charts out growth plans through mergers, acquisitions and strategic alliances.