=>>

=>>

Reliance Retail Mumbai Customer Care...
Reliance Retail Mumbai Customer Care Number & Email ID : reliancefreshdirect.com
Company : Reliance Retail Limited
Head Quarters : Mumbai
Industry : Online grocery / provision store
Service/Product : Beverages, Grocery & Staples, Baby Care,House Hold,Fruits,Personal Care, Baby Care etc
Want to comment on this post?

Go to bottom of this page.
Website : www.reliancefreshdirect.com
Reliance Retail Customer Care Number
Call Us : 022 61 220 220
Time : 8:00 am to 8:00 pm any day of the week, on
Email : cs AT reliancefreshdirect.com
Related : M&Z Solutions Customer Toll Free Number : www.customercare.gen.in/3996.html
Contact Address
Reliance Industries Limited,
Makers Chambers – IV,
Nariman Point,
Mumbai 400021,
Mahrashtra, India.

Return, Exchange & Refund Policy
** We endeavour to provide the best quality products every single time you order with us.
** We have a "no questions asked return policy" which entitles all our customer to return the product at the time of delivery if they are not satisfied with the quality e.g. broken, leaking, faulty or any defect or freshness of the product.
** Good once sold will not be taken back unless the product on arrival is damaged, broken, or faulty.
** Our quality assurance team checks the quality of all ordered products before they reach you.
** Products purchased on Reliance Fresh Direct can be returned as per below only if unopened and are in resalable condition.
Category – Damaged / Near Expiry / Low on Quality :
1. Bread / Fruits & Vegetable / Eggs – Call within 1 day of delivery
2. Dairy Products – Call Within 1 day of delivery
3. Non Food – Call Within 3 days of delivery
4. Packaged Food – Call Within 3 days of delivery
** You can return it to the delivery personnel at time of delivery or you can contact our customer support team and we will do the needful.
** We request you check all the items at the time of delivery.
** We will take the returned product and issue a credit note for the value of the return products which will be credited to your store credit account on the Site.
** This can be used to pay your subsequent shopping bills.
We do not make any cash refunds :
** However, if a product is returned due to a change of mind and your order value goes below our minimum order requirement of rs 499, you will be assessed an additional delivery / packing fee of Rs25/-
Split Payment :
** If more than one mode of payment has been used such as store credit, credit card, debit card or COD and, at the time of placing an order, the final refund amount if less than the original amount, due to deductions, would be credited to first to the external mode of payment like debit card, credit cards or and the balance amount would be credited to the internal mode of payment like store credit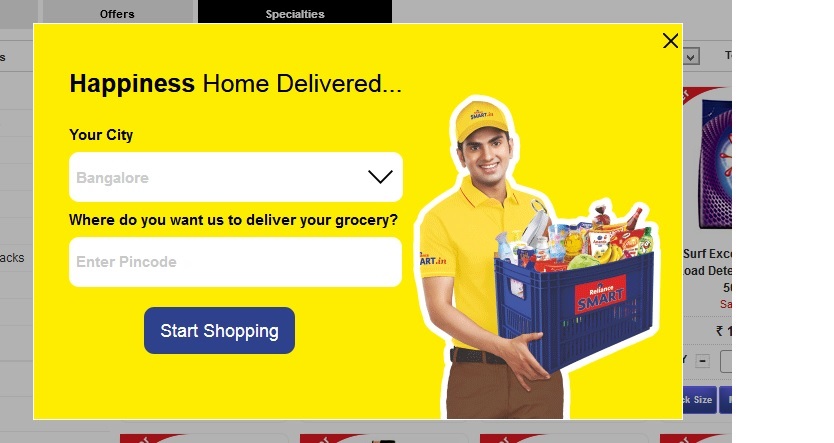 Cancellation Policy
** Please call us at 022 61 220 220 immediately if you would like to add, modify or cancel the order.
** If your order is a scheduled order, please call us one working day in advance by 11:00 am or email us at cs AT reliancefreshdirect.com before to guarantee a modification or cancellation.
** On receipt of the cancellation notice we shall cancel the order and refund the entire amount if the order has not been processed by us.
** We will not be able to cancel orders which are already shipped.
** All returns, exchange and cancellation are subject to warranties of product as prescribed the its manufacturer or producer and billing terms and conditions.