=>>

=>>

Vibrant Academy Kota Customer Help...
Vibrant Academy Kota Customer Help Line Number : vibrantacademy.com
Company : Vibrant Academy(I) Pvt. Ltd.
Head Quarters : Kota
Industry : Academy
Service/Product : IIT,JEE,competitive Exams,etc
Want to comment on this post?

Go to bottom of this page.
Website : www.vibrantacademy.com
Vibrant Customer Help Line Number
DLP Help Line No. : 0744-3205261
Fax: 0744-2423405
E-mail: admin AT vibrantacademy.com
Related : Allen  Career Institute Kota Customer Contact Phone Number : www.customercare.gen.in/5688.html
Contact Address
Vibrant Academy(I) Pvt. Ltd.
Vibrant Tower
A-14(A), Road No.1,
Indraprastha Industrial Area,
Kota -324005 (Rajasthan) India
Tel No.: 0744-2423406, 2428664, 2428666, 3205262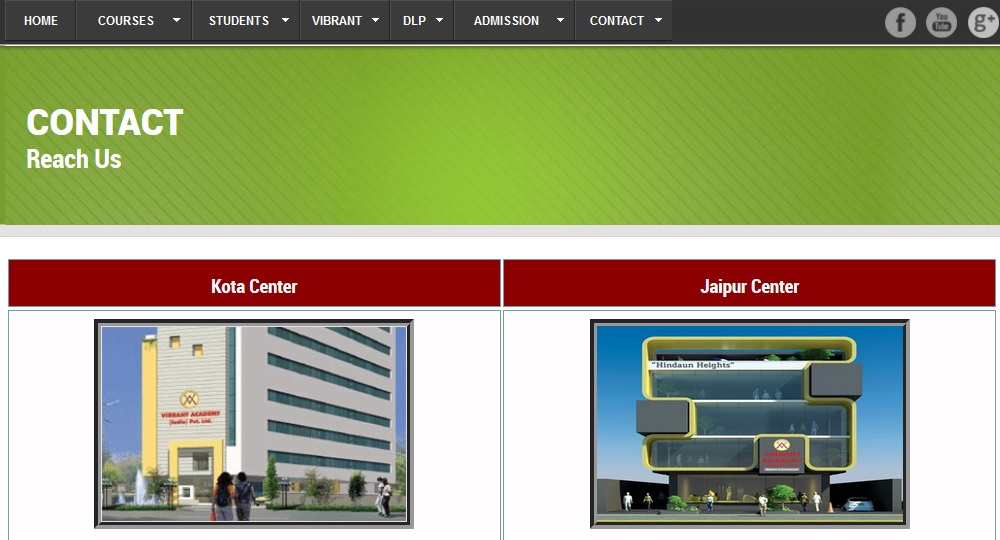 Fee Structure
Fee
Total Fee
First Instalment
Last Date of
Second Instalment
Structure
Basic Fee
Service Tax@14.5%
1st Instalment
Basic Fee
Service  Tax@14.5%
Total 2nd Instalment
Phase-I
115000
72489
10511
Jan-16
26201
3799
30000
Phase-II
Feb-16
Apr-16
Procedure :
Selection Test Centres
Selection Test Centres  : Agra, Ahmedabad, Ajmer, Allahabad, Aurangabad, Barmer, Bathinda, Bhilai, Bhopal, Bikaner,Bokaro, Chandigarh, Delhi, Gaya, Hisar, Indore, Jabalpur, Jaipur, Jammu, Jhansi, Jodhpur,Kolkata, Korba, Kota, Lucknow, Meerut, Mumbai, Muzaffarpur, Nagpur, Patna, Raipur, Ranchi,Sikar, Sriganganagar, Surat, Udaipur, Varanasi.
Note: * Selection Test Centre is KOTA only.
Eligibility Criteria for Appearing in Test
Minimum 70% Marks / Equivalent Grade in Science and Mathematics in Class X.
Selection Test:
The test of 3 hrs. shall be objective type containing questions of Mathematics, Physics and Chemistry.
Fill Online Application Form :
**This fee is only for 1 Year
**Fee may be deposited through Demand Draft/Pay Order in favour of Vibrant Academy (India) Pvt. Ltd., payable at Kota.
**Cash and Cheque (even cheque payable at par at all branches in India) will not be accepted.
Fee can also be paid through any of the following mode
**HDFC Bank Ltd. – challan alongwith DD / Cheque / Cash
**Axis Bank Ltd. – challan alongwith DD / Cheque / Cash
**ICICI Bank Ltd.- challan alongwith DD / Cheque / Cash
**Yes bank – challan alongwith DD / Cheque / Cash | credit card | debit card | net banking
**Challan can be downloaded from our website vibrantacademy.com
**- Bank Charges Rs.30/- per transaction / challan must be added in the fee amount.
**Fee would be deposited in two Installments, as per schedule mentioned above.
**If there is any change in rate of Service Tax / any other Tax during the course period the same will be applicable & student will bear the same.
**Refund of Fee as per the company policy. Refund request through E-mail / fax/ Telephone / mobile / SMS will not be entertained.
**Refund request will be processed for those students, who will submit the refund request in the prescribed form available at office.