=>>

=>>

Kores India Mumbai Customer Toll...
Kores India Mumbai Customer Toll Free Number : stationery.kores.in
Company : Kores India Limited
Head Quarters : Mumbai
Industry : Stationery Shop
Service/Product : Office Stationery,School Stationery,Student Stationery
Want to comment on this post?

Go to bottom of this page.
Website : http://stationery.kores.in
Kores Stationery Customer Toll Free Number
Call Us : For Consumer/ Trade/ Business Related Queries, call us on our toll free number 1800 22 9777
Related : Stationery Basket Delhi Customer Support Phone Number : www.customercare.gen.in/6290.html
Contact Address
301/302 & 202,
Ashford Chambers,
Lady Jamshedji Road,
Mahim West, Mumbai,
MH 400016, India
Get In Touch :
** We're very approachable and would love to speak to you.
** Feel free to call, send us an email, Tweet us or simply complete the enquiry form.
Call Us : 1800 22 9777
Write To Us : response.opd AT kores-india.com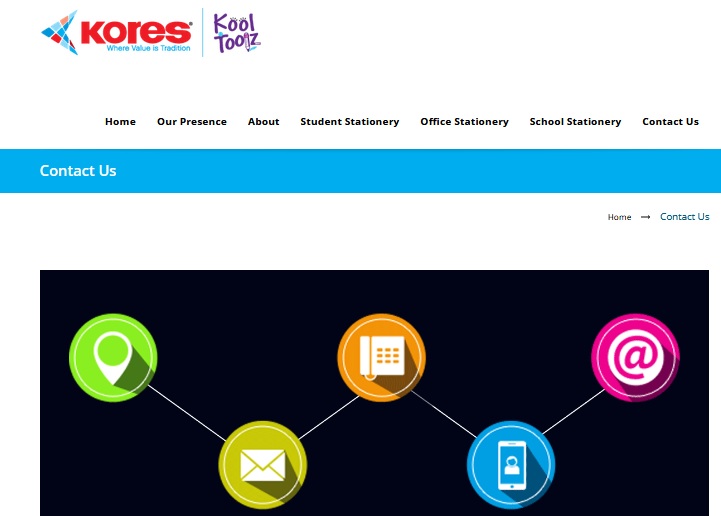 Categories
Office Stationery :
** Adhesives & Tapes
** Correction Accessories
** Highliters
** Inks & Ribbons
** Markers
** Paper And Related Products
** Stamp Pads
** Staplers & Punches
School Stationery :
** Boards
** Chalks & Dusters
Student Stationery :
** Crayons
** Erasers & Sharpners
** Geometry Boxes
** Glue
** Modelling Clay
** Pencils & Kits
** Plastic Scales
** School Bags
** Tempera Colours
About Us
Kores Office Products Division emerged in 1936 and grew leaps and bounds from there. With a wide product range and excellent quality products, we've been called "The Stationers To The Nation".
With a wide clientele ranging from the government, schools, offices, etc, a "Kores" product has reached out to everyone across the length and breadth of India.