Street Style Store Delhi Customer Service Contact Number : streetstylestore.com
Company : Street Style Store
Head Quarters : Delhi
Industry : Online Shopping
Service / Product : Shoes, Men & Women Dresses, Accessories,etc
You can now ask your questions about this Customer Care Contact detail.
Please go to the bottom of this page.
Website : http://streetstylestore.com/index.php?id_cms=27&controller=cms
Street Style Store Customer Service Number
Phone : 09211907907
Time : 10 A.M to 6 PM
Related : Sabbuy.com Hyderabad Customer Toll Free Number : www.customercare.gen.in/7092.html
Contact Address :
Street Style Store,
206-Bhagwati Sadan Building,
Plot No 8, BH Block Market,
Near Nainital Bank,
Shalimar Bagh
Delhi – 110088, India.

Returns & Exchanges
What is your return policy?
** We do not have " Money Refund " Policy.
** Right now our policy does not allow you to exchange the product you ordered for a different product.
** You can change the size for a different size if the size you..

How to initiate the exchange?
1. Log into " My Account " using your username and password.
2. Click on " My orders". Click the " Replace".
3. Happy with the product? Need a different size. Click " Replace Product".
4. All goods will be inspected when they are received in our warehouse.
5. The goods are your responsibility until they reach our warehouse, so make sure it's packed up properly on the original packet delivered to you and can't get damaged on the way!
6. In the unlikely event that an item is returned to us in an unsuitable condition, we may have to send it back to you.
7. We'll send your replacement to the original delivery address. To check or update your address details, log into My Account and click 'My adresses' and update (remember to click 'Save' when you're done).
8. Exchange will be assigned to our respective teams once you initiate it and all the updates will come directly to your inbox.Raising a new query for the same exchange might delay the process.
9. The first exchange is done free of cost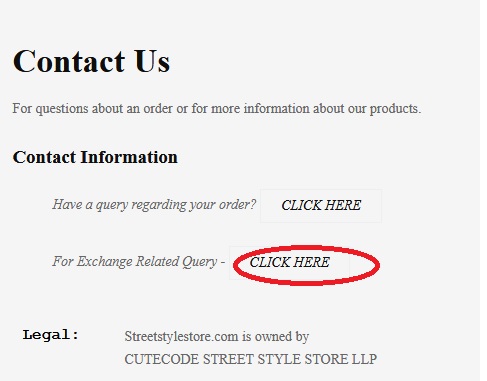 Frequently Asked Questions
Q. Why do you take 3-21 days to deliver?
It is always our endeavor to provide the trendiest designs at affordable pricing without compromising on the quality. Because of this we are always flooded with orders and so sometimes it might take some time to dispatch your order. But we guarantee that the products will be worth the wait.
Q. It's been some days since I made the payment but I still have not received the products. What do I do?
Your money is safe with us. Sometimes the shipping of the product might take 15-21 days. If after 21 days you still have not received your product then please email us at helpdesk AT streetstylestore.com
Q What is your exchange policy?
If the size does not fit you we exchange the size for you. The first exchange is free but we do charge Rs 200 for the second exchange.
Q. I got my shoes today but they do not fit me. What do I do?
If the shoe you ordered does not fit you . We will arrange a pickup from your place and once the shoe arrives back at our warehouse we will dispatch the size that you had requested. The first exchange is totally free!