KOEL Customer Helpdesk Number : Kirloskar Oil Engines
Company : KOEL Kirloskar Oil Engines Ltd.
Head Quarters : Bangalore
Industry : Electronics
Service : Manufacturing
Website : http://koel.kirloskar.com/content/customer-helpdesk
You can now ask your questions about this Customer Care Contact detail.
Please go to the bottom of this page.
KOEL Customer Helpdesk Number
Customer care cell Call:
Toll free Number : 1800 233 3344
Alternate Number : +91 8806334433
Related / Similar Service : Schneider Electric Customer Care Number
Email: koel.helpdesk AT kirloskar.com
Customer assistance is available 24 x 7 for all the after sales service and assistance required.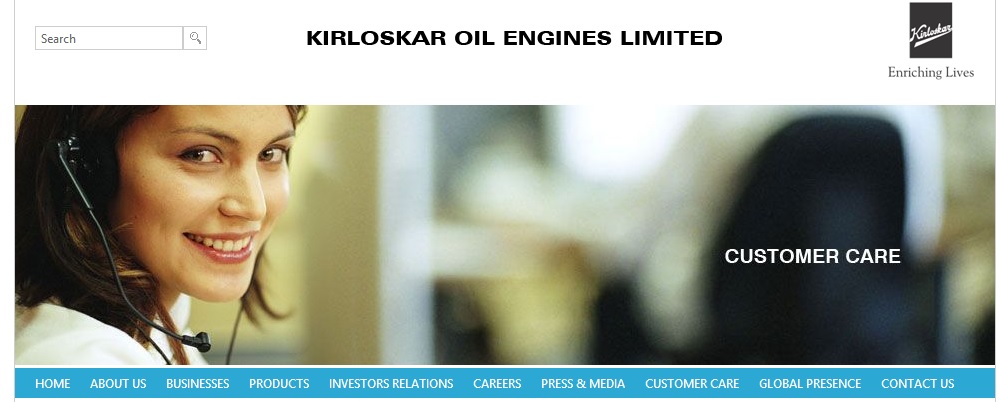 Contact Address
Bangalore Office :
Shri Lakshmi Complex, 3rd Floor,
N0.15, St. Marks Road,
Bangalore – 560 001, Karnataka, India
Phone No. : 080 25587562 / 30578162
Mobile No. : 08088449472 (Medha) / 09092551444 (Suthagaran)
Contact persons: Medha Hegde / Suthagaran K.
Email: govardhan.kumar AT kirloskar.com
Chennai Office :
Nelson Towers, 1st Floor, 2nd Wing, No.51,
Nelson Manickam Road, Aminjikarai,
Chennai(Madras) – 600 029, Tamil Nadu, India
Phone No : 044 23744624 / 23744661
Mobile No. : 09092551444 (Suthagaran)
Contact persons: Suthagaran K.
Email: govardhan.kumar AT kirloskar.com
Delhi Office :
404, 4th Floor, surya Kiran,
Building, 19, Kg Marg,
New Delhi- 47195206
Phone No : 0361 2736016 / 2736017
Mobile No. : 09971115383 (Kapil) / 09811779441 (Nimisha)
Contact person: Kapil Dhar / Nimisha Sinha
Email: akshay.mahajan AT kirloskar.com
About KOEL
Incorporated in 1946, KOEL is the flagship company of the Kirloskar group. We have four state-of-the-art manufacturing units in India that offer world-class service. The company has a sizable presence in international markets, with offices in Dubai, South Africa, and Kenya, and representatives in Indonesia and Nigeria. KOEL also has a strong distribution network throughout the Middle East and Africa.
Today KOEL is an acknowledged leader in the manufacturing of diesel engines, agricultural pumpsets and generating sets.
Manufacturing Facilities :
We have advanced manufacturing units for Industrial Engines at Pune plant and Kagal (Kolhapur) in India. Our state-of-the-art manufacturing set-up ensures that Engines are manufactured in an optimised and eco-friendly manner.
Location :
Pune plant
Kagal, Kolhapur
The manufacturing plants are well-equipped with the most advanced and high-tech machinery, having state-of-the-art, cutting-edge technology for machining of all critical components. Not only are the units of the highest quality, they are also safe and energy-efficient.
Security Rules :
Visitors are prohibited from violating or attempting to violate the security of the Website, including, without limitation,
(1) accessing data not intended for such user or logging into a server or account which the user is not authorized to access,
(2) attempting to probe, scan or test the vulnerability of a system or network or to breach security or authentication measures without proper authorization,
(3) attempting to interfere with service to any user, host or network, including, without limitation, via means of submitting a virus or "Trojan horse" to the Website, overloading, "flooding", "mail bombing" or "crashing", or
(4) sending unsolicited electronic mail, including promotions and/or advertising of products or services. Violations of system or network security may result in civil or criminal liability.
Kirloskar Oil Engines Private Limited and / or its associate entities will have the right to investigate occurrences that they suspect as involving such violations and will have the right to involve, and cooperate with, law enforcement authorities in prosecuting users who are involved in such violations.