My Money Seva Mumbai Customer Care Number : mymoneyseva.com
Company : Viva Card Retail Pvt Ltd My Money Seva
Head Quarters : Mumbai
Industry : Tours/Travel
Service/Product : Flight, Hotel Bookings, Tour Packages, Mobile Recharge, Car Rental
Website : http://www.mymoneyseva.com/contactus.aspx
You can now ask your questions about this Customer Care Contact detail.
Please go to the bottom of this page.
My Money Seva Customer Care Number
Call us : 022 4220 4220
Related : Ezeego One Travel & Tours 24×7 Customer Toll Free Number : www.customercare.gen.in/7046.html
Contact us
Mumbai Head Office :
VIVA CARD RETAIL PVT LTD
607 IJMIMA Building
Mind Space, Malad west
Mumbai 400064
Maharastra
Customer Care 022 4220 4220
Email: info AT mymoneyseva.com
Delhi Office :
509, Vikram Tower, Rajendra Place
New Delhi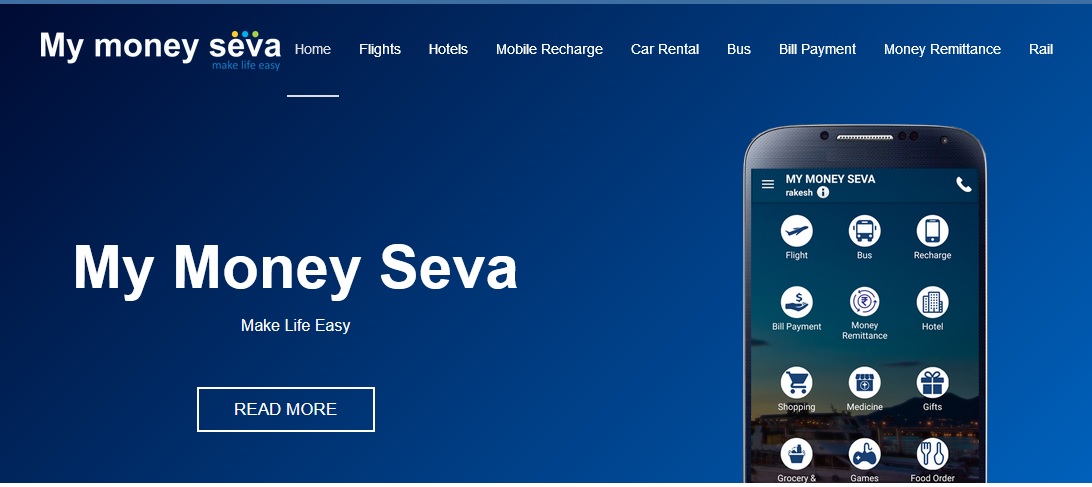 Lucknow Office :
G-3 Murli Bhawan
Ashok Marg, Hazrat Ganj
Lucknow UP
Haryana Office :
Shop no: 3,Globe market
Meera ghati, karnal- 132001
Patna Office :
R.B Market, ram nagari more
Opp 9 to 9 Super market,
Ashiyana road
Patna, Bihar
Jammu & Kashmir Office :
Nawab Bazar Mai Chowk
Phone 9419070855
Srinagar 190002,
Ranchi Office:
4th Floor, above Indian Bank,
Kadru road
Ranchi, jharkhand – 834001
Punjab Office:
Dimple Complex, inside patiala gate
Main market,
Nabha ( PUNJAB )
Saharanpur Office :
Subhash nagar, house no: 10
SAHARANPUR
Terms & Conditions
This website at mymoneyseva.com (the Website) is owned and operated by VIVA CARD RETAIL PVT. LTD. Please read all terms and conditions carefully before making any booking through this website.
Service Fees :
VIVA CARD RETAIL PVT. LTD. service fees may apply to bookings made online or via the VIVA CARD RETAIL PVT. LTD. Travel Centre. Your VIVA CARD RETAIL PVT. LTD. consultant can provide you full details on request.
Fares And Prices :
All airfares and prices quoted are subject to availability at the time of booking. Prices are subject to change until full payment and tickets are issued. Prices are quoted per person unless VIVA CARD RETAIL PVT. LTD. advises otherwise.
The prices set out on the Website may not include taxes, airport charges, and other additional costs, such as fuel levies, surcharges for internet bookings and seasonal surcharges. You will be notified of applicable taxes, airport charges and other charges when you have made a booking with VIVA CARD RETAIL PVT. LTD. and your booking is confirmed.
Such taxes and charges are subject to change until tickets are issued. Some airport taxes are not pre-paid and it is the travelers' responsibility to pay where applicable. Airlines and third party providers of travel and travel related services may change their prices, packages, flights and other information displayed on the Website at any time. All products, services and information displayed on the Website are subject to change without notice.
Your Use :
You agree to only use the Website for purposes permitted by these terms. You are responsible for all equipment and software used to access the Website. You must not:
** Use the Website directly or indirectly for any activity which breaches any laws, infringes a third party's rights, is unlawful, or breaches these terms.
** Use the Website directly or indirectly, or use any service provided on the Website, to conduct surveys, contests, pyramid schemes, or send chain letters, junk email or any other duplicative or unsolicited messages (commercial or otherwise).
** Attempt to gain unauthorized access to the Website or use another person's name, registration account or password.
** Create a false identity for the purpose of misleading others as to the identity of the sender or the origin of a message.
** Tamper with, hinder the operation of or make unauthorized modifications to the Website.
** Knowingly transmit any virus or other disabling feature to the Website.
** Advertise or offer to sell or buy any goods or services on the Website.
** Collect information about others, including email addresses, without their consent.