=>>

=>>

eZmaal Online Shopping Customer Service...
eZmaal Online Shopping Customer Service Number Mumbai
Company : eZmaal
Service Name : Customer Service Number
Headquarters : Mumbai
Industry : Online Shopping
Service/ Product : Mobile, Tablets, Computers, Cameras, Electronics etc
Website : https://www.ezmaal.com/
Want to comment on this post?

Go to bottom of this page.
eZmaal Customer Service
eZmaal Contact Address, Mobile Number and Email ID.
Related / Similar Post : Hyundai Gurgaon Contact Support

Contact Details
Address:
eZmaal
R-69, Opp. Juhu Beach,
Juhu Tara Road, Mumbai – 400 049,
Maharashtra.
Call: +91 9324923815
Our Customer Service numbers are open from:- Mon to Fri – 10am to 6pm; Sat – 10am to 2pm
E-Mail:- support@zetaonline.in
Write to Us : https://www.ezmaal.com/contactus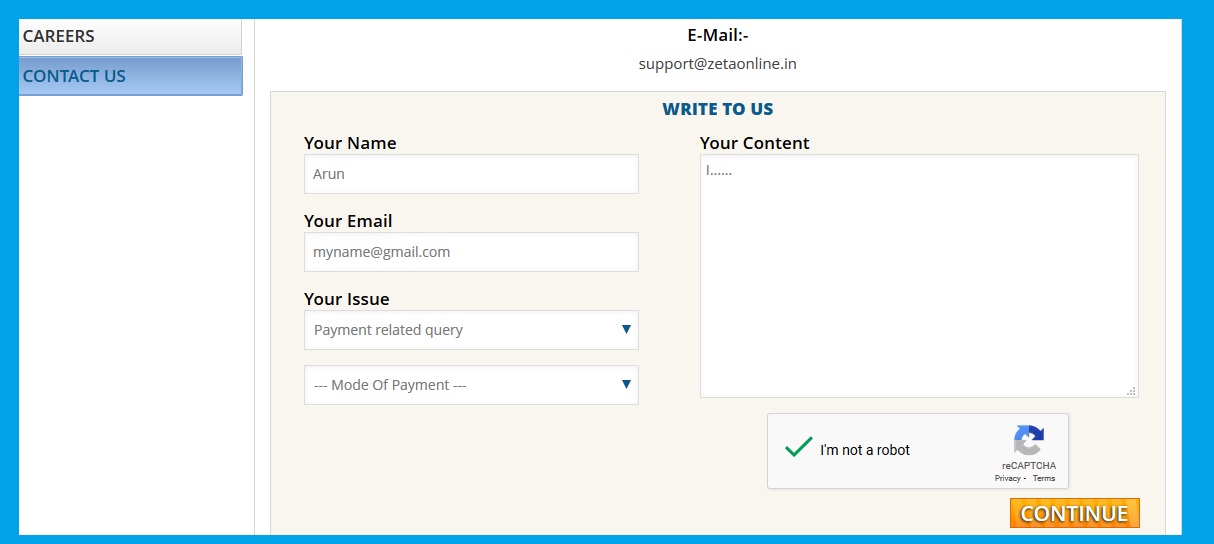 About eZmaal:
eZmaal.com is an e-commerce company, committed to be the most trusted virtual mall, offering an impressive shopping experience, optimized delivery and focused customer service.
We offer superlative products under Mobiles / Cameras / Audio Video / Computers / Gadgets / Movies / Music / Games / Home Appliances / Sports / Books / Other categories, enabling our customers to make informed buying decisions.
Customer service is not a department, it's an attitude! eZmaal.com is known for its dedicated team that assists our customers on orders and warranty related queries. We believe in building relations and ensure that our team is available to resolve all queries through e-mails and phone at any given point of time.
At eZmaal.com, we provide fair pricing and unparalleled product selection with a commitment to, 'On time delivery'. We empower our customers to make the best buying decisions. Customer satisfaction is our highest priority, united with superior service.
Security Policy:
Security is a top priority for us. When a customer submits sensitive information (such as credit card number and/or social security number) via the website, the information is protected both online and offline. When a registration/order form asks the consumer to enter sensitive information , that information is encrypted and is protected with the best encryption software currently available in the industry – SSL We uses the most advanced form of SSL software available: 128-bit encryption by Trustwave.
SSL stands for Secure Sockets Layer, a global standard security technology that enables encrypted communication between a web browser and a web server. It is utilized by millions1 of online businesses and individuals to decrease the risk of sensitive information (e.g., credit card numbers, usernames, passwords, emails, etc.) from being stolen or tampered with by hackers and identity thieves. In essence, SSL allows for a private "conversation" just between the two intended parties.
Privacy Policy:
eZmaal.com respects your privacy. This Privacy Policy provides the manner your data is collected and used by eZmaal.com. You are advised to please read this Privacy Policy carefully. By accessing the services provided by eZmaal.com you agree to the collection and use of your data by eZmaal.com and certain authorized third party service providers in the manner provided in this Privacy Policy. If you do not agree with this Privacy Policy, please do not use the website: http://www.eZmaal.com
By accepting the Privacy Policy during registration, you expressly consent to our use and disclosure of your personal information in accordance with this Privacy Policy. This Privacy Policy is incorporated into and subject to the terms of the User Agreement.