=>>

=>>

TNAU Agritech Portal Kisan Call...
TNAU Agritech Portal Kisan Call Center : Tamil Nadu Agricultural University
Organisation : TNAU Agritech Portal
Service Name : Kisan Call Center
Headquarters : Coimbatore
Industry : Agriculture, Education
Service/ Product : Kisan Services
Website : https://agritech.tnau.ac.in/kisan/kisan.html
Want to comment on this post?

Go to bottom of this page.
TNAU Agritech Kisan Call Center
The Department of Agriculture & Cooperation (DAC), Ministry of Agriculture, Govt. of India launched Kisan Call Centers on January 21, 2004 across the country to deliver extension services to the farming community.
Related / Similar Contact : CUSB Help Desk

The purpose of these call centers is to respond to issues raised by farmers, instantly, in the local language. There are call centers for every state which are expected to handle traffic from any part of the country. Queries related to agriculture and allied sectors are being addressed through these call centers.
A farmer from any part of the State can contact the Kisan Call Centre by dialing the toll free Telephone No. 1551 or 1800-180-1551 and present their problems/queries related to farming. The operator at the Kisan Call centre will attempt to answer the problems/queries of the farmers immediately. In case the operator at the Call Centre is not able to address the farmer's query immediately, the call will be forwarded to identified agricultural specialists.
Kisan Call Center Number
Kisan Call Center : 1800-180-1551 (from any Landline or Mobile) / 1551 (from BSNL Landline)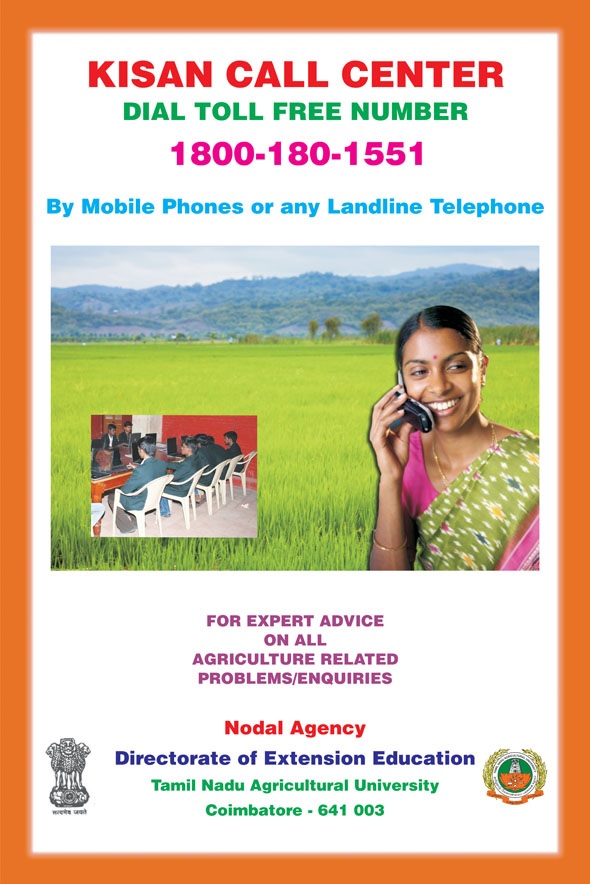 Kisan Call Centers India
Andhra Pradesh:
Kisan Call Centre (Ministry of Agriculture) IFFCO Kisan Sanchar Limited Agricultural Technology & Information Centre (ATIC), ARI Premises, Acharya N.G. Ranga Agricultural University (ANGRAU), Rajendranagar, Hyderabad – 500 030 Mr. K. Rajesh, Coordinator KCC, 098482 08077 Email ID hyderabad.kcc@iffco.in
Bihar, Jharkhand :
Kisan Call Centre (Ministry of Agriculture) IFFCO Kisan Sanchar Limited Mithapur Agriculture Farm Rasayan Bhavan, Mithapur, Patna – 800 001 Mr. Surendra Kumar Chaudhary & Mr. Lallan Singh Patel, Supervisor, KCC, 086513 50863 / 095254 13461 E-Mail ID – patna.kcc@iffco.in
Delhi, Rajasthan:
Kisan Call Centre (Ministry of Agriculture) IFFCO Kisan Sanchar Limed Nehru Sahkar Bhawan, 22 Godam Circle Bhawani Singh Road, Jaipur – 302001 Mr. Harish Kumar & Mr. Nami Chandra Meena, Coordinator, KCC, 094142 23450 / 075680 45530 E-Mail ID – jaipur.kcc@iffco.in
Gujarat, Dadra & Nagar Haveli, Daman & Diu:
Kisan Call Centre (Ministry of Agriculture) IFFCO, IFFCO Bhawan, IFFCO Kisan Sanchar Limited First Floor, Shhivranjani Cross Road, Sattelite, Ahmedabad – 380 015 Mr. Pranav Patel, Coordinator, KCC, 095587 98927 E-Mail ID – ahmedabad.kcc@iffco.in
Haryana, Punjab, Chandigarh, Himachal Pradesh:
Kisan Call Centre (Ministry of Agriculture) IFFCO Zonal Office, IFFCO Kisan Sanchar Limited Plot No. 2 (B&C), Sector 28-A, Madhya Marg Chandigarh – 160 002 Mr. Pushpendra Singh, Mr. Hari Shanker & Mr. Raman Singh Gautam, Supervisor, KCC 090239 21847 / 097813 81551 / 090233 03402 E-Mail ID – chandigarh.kcc@iffco.in
Jammu & Kashmir:
Kisan Call Centre (Ministry of Agriculture) IFFCO Kisan Sanchar Limited 50 D/C, Gandhi Nagar, Jammu – 180 004 Mr. Tarun Pal Singh, Supervisor, KCC 094691 52611 E-Mail ID – jammu.kcc@iffco.in
Karnataka, Kerala, Lakshadweep, Andaman & Nicobar :
Kisan Call Centre (Ministry of Agriculture) IFFCO Kisan Sanchar Limited, KSCARD Bank Premises Tipusultan Palace Road, Chamarajpet Bengaluru – 560 018 Mr. Harish M. S, Coordinator, KCC, 098448 42033 E- Mail ID – Bengaluru.kcc@iffco.in
Madhya Pradesh, Chattisgarh :
Kisan Call Centre (Ministry of Agriculture) IFFCO Kisan Sanchar Limited C/o. Mr. Vimal Kumar Nikhara 9, Adarsh Colony, First Floor (Above ICICI, ATM), Main Road, Adhrtal, Jabalpur (MP) – 482 004 Mr. Vikas Shukla & Mr. Ajay Kumar Banke, Supervisor, KCC, 094253 45460/098262 27523 E-Mail ID – jabalpur.kcc@iffco.in
Maharashtra, Goa :
Kisan Call Centre (Ministry of Agriculture) IFFCO Kisan Sanchar Limited IKSL Office, E/3, Sahakar Bhawan, Gultekadi Market Yard, Pune – 411 037 Mr. Mukesh Mahajan,Supervisor & Mr. Samadhan Madhane, Coordinator, KCC 090219 47984 / 99708 88701 E-Mail ID – pune.kcc@iffco.in
Tamil Nadu, Puducherry, Andaman & Nicobar:
Kisan Call Centre (Ministry of Agriculture) IFFCO Kisan Sanchar Limited Old DEE Building, Near Agro-climatic Research Center, Tamil Nadu Agricultural University (TNAU), Coimbatore – 641 003 Ms. S. Menaka Sivam, Supervisor, KCC 099441 48015 E- Mail ID- coimbatore.kcc@iffco.in
Uttar Pradesh, Uttarakhand :
Kisan Call Centre (Ministry of Agriculture) IFFCO Kisan Sanchar Limited House No. 22A – 1, (near Gurudev Palace Chauraha) G.T. Road, Lakhanpur, Kanpur – 208 002, Uttar Pradesh Mr. Digvijay Chouhan & Mr. Avadhesh Singh, Supervisor, KCC 096289 15635 / 090263 33816 E-Mail ID – kanpur.kcc@iffco.in
West Bengal, Sikkim :
Kisan Call Centre (Ministry of Agriculture) IFFCO Zonal Office, IFFCO Kisan Sanchar Limited 8, Acharya J C Bose Road, Circular Court , (1st Floor) Kolkata – 700017 Mr. P.S Biswas, Supervisor, KCC 094749 29282 E-Mail ID – kolkata.kcc@iffco.in
Arunachal Pradesh, Assam, Mizoram, Meghalaya, Triptura, Nagaland, Manipur:
Kisan Call Centre (Ministry of Agriculture) IFFCO State Office,IFFCO Kisan Sanchar Limited G.S. Road, Ulubari, Guwahati – 781 007 Mr. Chakrapani Medhi & Mr. Shaikh Sahajahan Ali, Coordinator KCC 084020 01930 / 9957561270 E- Mail ID – guwahati.kcc@iffco.in
Odisha :
Kisan Call Centre (Ministry of Agriculture) IFFCO Kisan Sanchar Limited,Plot No.-191,204,205, 2nd Floor, Maa Gouri Complex, In front of Kedar Gouri Temple, Lewis Road, Bhubaneswar – 751 014, Odisha Mr. Nirad Beura, Coordinator, KCC 094371 15185 Email: bhubaneswar.kcc@iffco.in