=>>

=>>

UOU Haldwani Toll Free Number...
UOU Haldwani Toll Free Number : Uttarakhand Open University
Organisation : Uttarakhand Open University
Service Name : Toll Free
Headquarters : Haldwani
Industry : Education
Service/ Product : Admission
Website : https://www.uou.ac.in/
Want to comment on this post?

Go to bottom of this page.
UOU Contact
Uttarakhand Open University Contact Address, Mobile Number and Email ID.
Related / Similar Contact : SonaTech Contact Numbers & Email IDs

UOU Toll Free
For Administrative enquiries:
Uttarakhand Open University
Behind Transport Nagar, Vishwavidyalaya Marg,
Haldwani (Nainital) 263139 Uttarakhand
Toll Free : 1800 180 4025
Operator : 05946-286000
Admissions : 05946286002
Book Distribution Unit : 05946-286001
Exam Section : 05946-286022
Fax : 05946-264232
Website : http://uou.ac.in
Dehradun Campus:
UCF Sadan, Vishnu Vihar, Deepnagar Road,
Near Prasar Bharti Kendra, Ajabpurkalan,
Dehradun-248001, Uttarakhand
Phone: 0135-2974378
UOU Regional Centres
Dehradun (RC Code: 11):
Regional Director : Dr. Sandeep Negi
Address: Shri Guru Ramrai P G College Dehradun
Email: dehradun@uou.ac.in
Phone: +91-9412031183
Office No: 0135-2720027
Roorkee (RC Code: 12):
Regional Director : Dr. Gautam Veer
Address: B.S.M P.G. College Roorkee
Email: roorkee@uou.ac.in
Phone: +91- 7895360001
Office No: 01332-274365
Pauri (RC Code: 14):
Regional Director : Prof. A.K Dobriyal
Address: H.N.B Garhwal University, Pauri
Email: pauri@uou.ac.in
Phone: +91-9412960687
Office No: 01368-223308
Uttar Kashi (RC Code: 15):
Regional Director : Dr Suresh Chandra
Address: Government Degree College, Uttarkashi
Email: uttarkashi@uou.ac.in
Phone: +91- 7902051528
Office No: 01374-222004
Haldwani (RC Code: 16):
Regional Director : Dr. Rashmi Pant
Address: M.B.P.G College, Haldwani
Email: haldwani@uou.ac.in
Phone: +91-9411162527
Office No: 05946-284149
Ranikhet (RC Code: 17):
Regional Director : Dr. R K Singh
Address: Govt PG College Ranikhet
Email: ranikhet@uou.ac.in
Phone: +91-9997290990
Office No: 05966-220474
Pithoragarh (RC Code: 18):
Regional Director : Dr Vipin Chandra Pathak
Address: Govt P.G. College Pithoragarh
Email: pithoragarh@uou.ac.in
Phone: +91-9412093678
Office No: 05964-264015
Bageshwar (RC Code: 19):
Regional Director : Dr. S.S Dhapola
Address: Govt P.G. College Bageshwar
Email: bageshwar@uou.ac.in
Phone: +91-9412105310
Office No: 05963-221894
Asst.Regional Director (ARD):
Ranikhet:
Priyanka Lohani Pandey- 9761237775
Uttarkashi:
Govind Singh- 7818871463
Haldwani:
Brijesh Kumar Bankoti- 7534098691
Bageshwar:
Rekha Bisht- 8279959931
Pauri:
Bhasker Chandra Joshi- 8279611074
Dehradun:
Anil Kandari- 9084124647
Pithoragarh:
Pankaj Kumar- 8191003873
Roorkee:
Ruchi Arya- 7456811951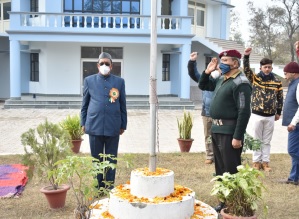 About Uttarakhand Open University:
Higher education is the most critical element of growth in this era of knowledge economy. We need to at least double the Gross Enrollment Ratio (GER) to remain active contributors to growth in this era. This truth has been well recognised by many policy planners, commissions and thoughtful individuals.
The National Knowledge Commission has brought out valuable documents outlining the critical role of higher education. In this context, the role of Open and Distance Learning System (ODL) becomes significant and unique. The experience across the globe substantiates that ODL system is an effective tool for educationally empowering the different sections of society who, for one reason or the other, had missed the formal 'face-to-face' education.
These days, distance education provides many vocational, professional and technical courses, including specialised programmes oriented towards the higher end of technology usage. It also has the potential to reach the unreached, marginalized and excluded people residing in distant places and difficult terrain.