NPS Trust Delhi Helpline Contact Numbers : npstrust.org.in
Organisation : National Pension System Trust (NPS Trust)
Service Name : Helpline Contact Numbers
Headquarters : Delhi
Industry : Trust
Service/ Product : NPS, APY
Website : https://www.npstrust.org.in/content/contact-us
Want to comment on this post?

Go to bottom of this page.
NPS Trust Contact
In the wake of pandemic outbreak of Covid-19 (Novel Corona Virus), we are largely working from home. You can communicate to us as per the details mentioned below. We thank you for your kind support and for being a valuable subscriber. Inconvenience sincerely regretted.
Related / Similar Contact : Super99 Delhi Contact Number and Email ID

If you have any grievance, kindly register it in Central Grievance Management System (CGMS)* by selecting appropriate options as follows:
** NPS related grievances
** APY (Atal Pension Yojana) and NPS Lite/Swavalamban scheme related grievances
NPS Trust Helpline
Dedicated helpline contact details of entities under NPS architecture
Entity
Contact Numbers
Email IDs / Web links
Central Record-keeping Agencies
NSDL eGovernance Infrastructure Ltd.
022-24994928

022-24994706

(Availability: 9 am to 6.30 pm)

Log and track your grievance/enquiry in NSDL CRA system here
Kfin Technologies Pvt. Ltd.
18002081516

(Toll free number)

(Availability:

Interactive Voice Response (IVR) – 24*7

Customer care executive – 10 am to 6.30 pm)

kcra@kfintech.com
Trustee Bank
Axis Bank Ltd.
022-71315883

022-71315884

022-71315906

(Availability: 9:30 am to 5 pm on all Bank working days of state of Maharashtra)

npstrust@axisbank.com
Annuity Service Providers
Life Insurance Corporation of India

022-67819283

022-67819289

–
HDFC Life Insurance Co. Ltd.

18602679999

(For customers receiving annuity from HDFC Life)

(Availability: Mon to Sat 10 am to 7 pm)

service@hdfclife.com

nriservice@hdfclife.com (for NRI customers only)

9742799111, 9820825587, 9602333444

(for PoPs, Nodal Offices)

npsannuity@hdfclife.communeesh@hdfclife.comrekha_g@hdfclife.comc.saurabh@hdfclife.comranbheer.d@hdfclife.com
ICICI Prudential Life Insurance Co. Ltd.
9871483706
neha.hasan@iciciprulife.com
SBI Life Insurance Co. Ltd.
022-61910388

022-61910104

npsannuity@sbilife.co.in

Star Union Dai-ichi Life Insurance
9819404592

8008500119

Shekhar.more@sudlife.in

Mukerji.rr@sudlife.in

Kotak Mahindra Life Insurance Company Ltd.
Click here for Regional contact details

(for PoPs and subscribers)

9899976689

9820708201

(for PFRDA and CRAs)

gupta.deepak@kotak.com

nandini.gupta@kotak.com

India First Life Insurance Co. Ltd.
1800 209 8700
nps@indiafirstlife.com
NPS Trust Information Desk
NPS Information desk: 1800 110 708
APY Information desk: 1800 110 069
NPS Trust Office Address
National Pension System Trust
14th Floor, IFCI Tower
61, Nehru Place
New Delhi – 110019
Ph: +91 11 47207700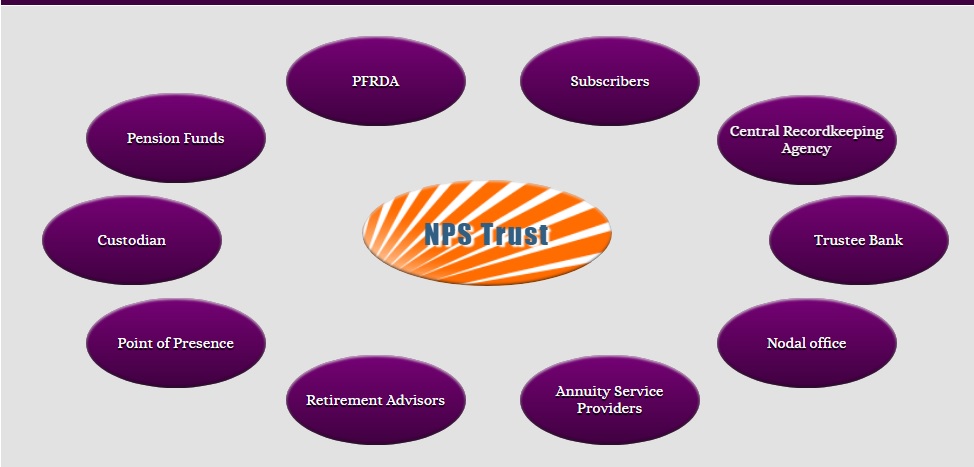 About NPS Trust:
National Pension System Trust (NPST) was established by PFRDA as per the provisions of the Indian Trusts Act of 1882 for taking care of the assets and funds under the NPS in the best interest of the subscribers. The powers, functions and duties of NPS Trust are laid down under the PFRDA (National Pension System Trust) Regulations 2015, besides the provisions of the Trust deed dated 27.02.2008.
NPS Trust is the registered owner of all assets under the NPS architecture which is held for the benefit of the subscribers under NPS. The securities are purchased by Pension Funds on behalf of, and in the name of the Trustees, however individual NPS subscriber remain beneficial owner of the securities, assets and funds.
NPS Trust, under the NPS Trust regulations, is responsible for monitoring the operational and functional activities of NPS intermediaries' viz. custodian, Pension Funds, Trustee Bank, Central Recordkeeping Agency, Point of Presence, Aggregators and that of IRDAI registered Annuity Service Providers (empanelled with PFRDA) and also for providing directions/advisory to PF(s) for protecting the interest of subscribers, ensuring compliance through audit by Independent Auditors, and Performance review of Pension Funds etc.