TTN BroadBand Bangalore Customer Care Number : ttnetwork.net
Company : TTN BroadBand
Head Quarters : Bangalore
Industry : Telecom
Service / Product : Broad Band Service
Website : www.ttnetwork.net
Want to comment on this post?

Go to bottom of this page.
TTN BroadBand Customer Care Number
Timings : 6:00 Hrs to 23:30 Hrs
Number : 080-49232323
Related : SPiDiGO Internet & Broadband Services Ahmedabad Customer Support Number : www.customercare.gen.in/2427.html
E-Mail Address
For Sales : sales AT ttnetwork.net
For Billing : billing AT ttnetwork.net
For Support : support AT ttnetwork.net
Contact Address
TTN BroadBand
#2573, 13th Cross, 27th Main , 1st Sector,
HSR Layout, Bangalore – 560 102.
Phone : 080-49232323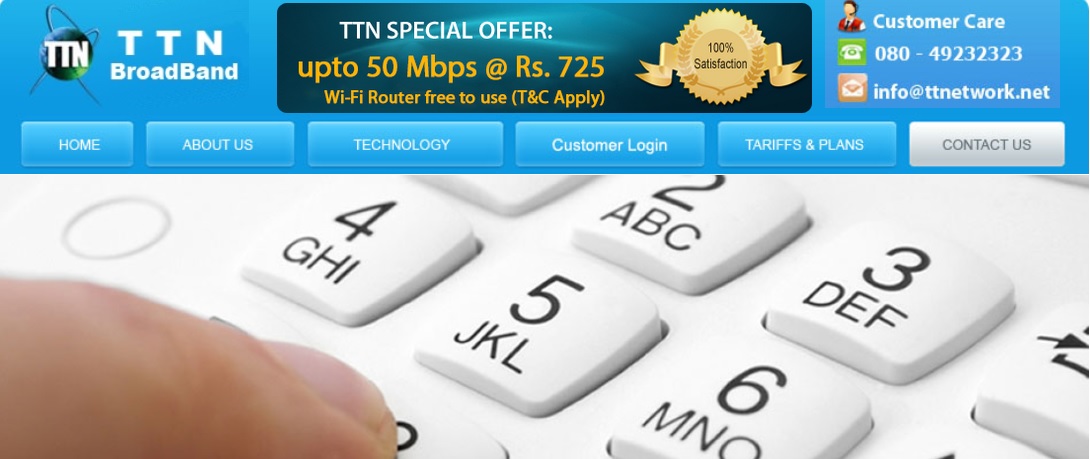 Refund & Cancellation :
** Welcome to TTNetwork.
** We make publicly open our policy on refund and cancellation of orders received and sales of our packages made on
Payment gateway as under:
a) Any refund/cancellation sought for by any customer will be entertained only when received within 24 hours of the date of sale(s).
b) No cash or refund of money will be allowed.
c) Cash refund if at all required in any exceptional circumstances will be made through DD or multicity cheque(s).
About Us :
TTN is deploying Gigabit Ethernet PON and RFoG (RF over Glass) solution, the most spread FTTP/FTTH technology in the access network world, thereby maximizing the economical efficiency of optical feeders and providing scalable split ratio according to service requirements and service density. This deployment architecture enables seamless provision of Cable TV services and the Internet services on the same access.