Teracom Noida Customer Care Number & Email ID : teracom.in
Company : Teracom Limited
Head Quarters : Noida
Industry : Broadband
Service / Product : Broadband Service
Website : www.teracom.in
Want to comment on this post?

Go to bottom of this page.
Teracom Customer Care Number
Customer Care: 0832-2985023; 09765943283
E-mail: customercare AT teracom.in
Related : Manthan Broadband Services Kolkata Helpline Number : www.customercare.gen.in/2419.html
Telecom Enquiries : sales AT teracom.in
Send your resume : at careers AT teracom.in
Location of teracom office in India :
Tablets, 3G Datacard & ADSL2+ Modems: sales AT teracom.in
Telecom Turnkey Solution : info AT teracomturnkey.in
Security Surveillance Solutions : info AT teracom.in
Power Cables : mkanakrajan AT teracom.in
Power Conductors: myadav AT terexel.com
Power Turnkey Solutions : salespp AT teracom.in
Contact Address
Noida :
"Teracom House"
B-84, Sector-60, Noida 201301, U.P., India
Tel.: 91-120-3021003, 3021004
Fax : 91-120-2585422
Dubai :
C1 – 905,
Ajman Free Zone – 40062
Dubai, United Arab Emirates
(Commercial License No. 3308)
GOA :
Plot No. 250, Kundaim Industrial Estate
Kundaim,
Goa 403115
Tel: 91-832-3208260, 3206879
Fax: 91-832-2396165
Pant Nagar :
Plot No. 17 to 19 & 52 to 54
Sector – 5, Pant Nagar-263145
Uttranchal
Tel: 91-5944-250338
Fax: 91-5944-250194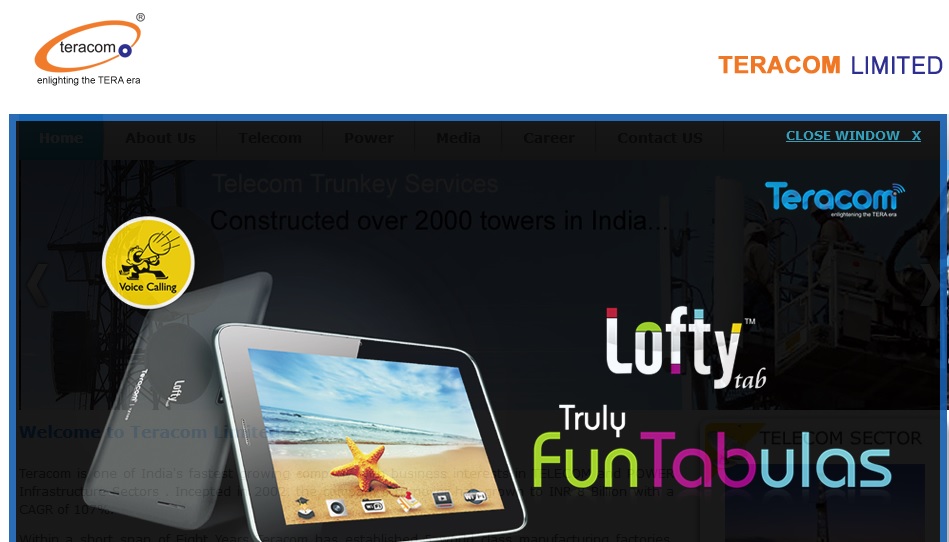 Sales Office Address
Chennai :
G2, Sara, New No.11 (Old No.6), 4th Cross Street,
C.I.T Colony, Mylapore, Chennai 600004
Tel: 91-44-45534429/45534430
Fax: 91-44-45534428
Mumbai :
1/175, Swamikripa Co. op. HSL,
DL Vaidya Road, Dadar (west) Mumbai 400028
Tel: 91-22-32632847
Fax: 91-22-24328484
Kolkata :
2nd Floor, Room No.24, Poddar Court, Gate No.4,
18, Rabindra Sarani, Kolkata 700001
Tel: 91-33-22362914/39850043
Fax: 91-33-22370797
About us
Teracom is one of India's fastest growing company with business interests in TELECOM and POWER Infrastructure Sectors . Incepted in 2002, the company's turnover has grown to INR 8 Billion with a CAGR of 125%.Within a short span of Eight Years Teracom has established 5 world class manufacturing factories, spread over 1.5 Million square feet to manufacture Optical Fiber Cable, FRP Rods, Broadband CPEs, Optical Transmission Equipments, Microwave Equipments, LT/HT Power Cables and ACSR/AAAC Conductors.
Our EPC Division has Pan India Presence with very good track record of timely completion of many big Telecom Rollouts, FTTH Networks, 220 KV/400KV Transmission Lines, 220KV Underground Cabling, Substations and Integrated Security Solutions.To ensure timely after sale service of our manufactured Telecom Products, we have also established a network of over 100 after-sale service centers spread all over India .